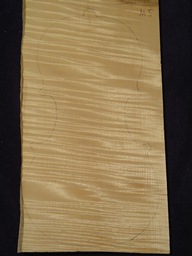 SEEK CURLY MAPLE TREE AND COMPLETE CUTTING
The complete cutting of the selected barks is carried out by the care with which we respect the mesh in a very precise way.
This technique being applied to the back as well as to the heads and fish-plates.
NATURAL DRYING
The drying of all the supplies is done by natural way, stoving never being used.
The parts are stored outside, under shelter, with circulation of air and then returned to an adequate room in order to perfect the operation.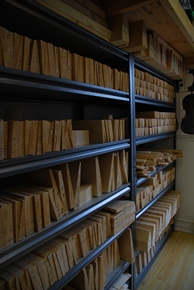 PRESENTATION OF OUR SUPPLIES
The back, contrary to the way in which it is usually presented, is already sawn in half, with planed interior faces.
This is what makes it possible to realize the ideal quality of the grain and the circles of growth .
CLASSIFICATION OF OUR SUPPLIES
All our supplies are arranged by catalogs. They carry a specific reference to the tree in which they were output.